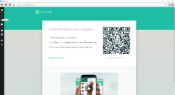 ZenBrowser is a web browser that can offer secure and easy browsing. It offers something different and unique, as it adds some features that are not seen in other browsers.
It's based on Chrome, so the interface will look similar to Chrome, which is not a bad thing – and it adds some features that some users would like to see.
Easy to Use
It is a Chrome-based browser, so it uses largely the same design and similar interface, but also the features are identical to those that can also be found inside Chrome.
It allows you to open multiple tabs simultaneously, and switching between these tabs is possible through the vertical toolbar. Closing a tab is different when comparing with other browsers – you need to right-click the tab for this purpose.
You can also add bookmarks when you want and save them into the browser. Yet another feature is from Chrome. It is great when you view many web pages, and you want to handle them easier.
You can also view your history, delete it, and modify some other settings that are typical for Chrome too.
Additional Features
ZenBrowser does differ from Chrome in some very important aspects, though. It features some tools that are not present in Chrome, such as a built-in crypto mining blocker. Your computer cannot be used without your permission in the world of digital currency.
There's also the miner blocker, which is meant to protect you against using your computer in unwanted ways.
Additionally, there's also the adblocker, which helps you turn off various ads that might get annoying after some time.
Also, you can access some popular apps without ever leaving the browser, such as WhatsApp, Spotify, Instagram, and more.
Conclusion
ZenBrowser is a great browser to try if you want something different with an interface that resembles Chrome.