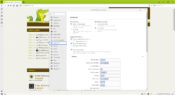 Vivaldi is a lesser-known web browser with a neat and modern interface, a complex set of tools and features, and fast and reliable performance.
In the sea of web browsers today on the market, it's hard for newer browsers to break into the fold and break the dominance of browsers like Chrome or Firefox.
However, we're constantly blessed with new and improved browsers that focus on the weaknesses that some major browsers don't address.
One is Vivaldi, a web browser that focuses on customizability, ease of use, and reliable performance.
One of the major advantages of this browser is that it gives you full control over how your browser looks and works and brings you the most intuitive experience possible for your browsing needs.
Customize Your Browser
It has a fitting name – it is named after the composer Vivaldi, and the meaning of this name is more profound than you might think. In short, it shows the browser's willingness to give you full control over how your browser looks and works.
You can customize large parts of the GUI, and the browser's appearance, a user-focused approach not many other browsers have to this extent.
You can add new elements to the browsers' main interface and remove them as you see fit. You'll be able to do whatever you want with the browser, which means more freedom and a better user experience.
Typical Browser Layout
This software has the typical browser layout you'd expect from a web browser. It has a tab bar on the top. Then there's the toolbar and the controls beneath it. But the major difference here is that you can add or remove elements as you wish.
Another difference is the main window's GUI tab on the left-hand side.
Conclusion
Vivaldi is one of the newer browsers that focuses on customizability and user experience, giving users more freedom over what they do with the browser and set it up.