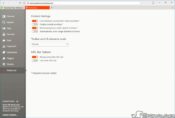 Brave Browser is a new beast on the browser's environment that aims to be faster and more stable than Google Chrome. The idea behind this performance is to improve the browsing speed by taking out banners, trackers, popups and other forms of advertising from the visited websites.
The browser was created by Brendan Eich, who is one of the contributors to the Mozilla project, and he's also the creator of JavaScript. So you know that this browser is being designed by the world's best.
The browser has two distinct features that jump out: the first is the security and safety of browsing, and the second is its unique, rewarding system that keeps you coming back.
The user is aware of the total saved time, as the browser tracks the time you spare while browsing. Another advantage of Brave is it reduces the adware and malware infection risk.
Furthermore, it protects the user against identity stealing, ransomware infections that will encrypt your data and ask for money to regain access to it, and so on.
Impeccable Safety and Security
Your safety and security are becoming more and more critical when browsing online. And one potential risk for your safety is the multitude of ads that keep spamming your screen when you enter a site on regular browsers. It has a built-in ad-blocking software that keeps you safe from the most harmful malware on the internet right now.
It's loosely based on Chromium, but the browser manages to keep it down to the bare bones and the stuff that you need when browsing.
You'll also get access to Tor with this browser, which is popular for being safe online.
A Unique Reward System
Brave Browser removes the usual ads from websites and adds its vetted ads that will be shown to you in the form of popups. And the more you interact with these popups, the more Basic Attention Tokens you will receive, which is Brave's cryptocurrency. There's also a built-in crypto wallet that you can use for your convenience.
You can watch a detailed video review of this nice browser:
Conclusion
Brave Browser is an advanced and modern browser with safe and secure browsing and a unique rewarding system. It's definitely worth trying.