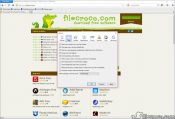 Pale Moon is a Firefox-based web browser that combines features from Firefox with additional features such as faster browsing and other features that can't be accessed in Firefox.
The world of web browsers is vast and developed. More browsers are coming to users every day, and if you're looking for a browser that will suit your taste, you will have many options. Of course, Firefox, Chrome, Internet Explorer, or Opera are just some of the most popular browsers, but there are many more that you should know about.
One of the most popular ones is the Pale Moon. It is a browser that closely resembles Firefox and improves on it in many ways. It offers a faster browsing experience and the same user-friendly features that you're able to find inside Firefox at the same time.
It was released in 2009, and it has thousands of users worldwide.
Similar to Firefox
If you know and love Firefox but want a bit faster performance and some additional features, then you'll be pleased to know that Pale Moon will be right up your alley. The main difference is that this browser will always run in the single-process mode while utilizing modern processors much better than Firefox.
It enables you to have a faster and safer browsing experience overall.
It offers constant updates to the core of the browser and its security standards, which is great if you want to have the latest technology and use its full potential with this browser.
Additional Features
But if you are a big fan of Firefox and want all the additional perks that come with Firefox, you'll be pleased to know that Pale Moon also delivers on that aspect.
You will have the option to access some of the Firefox add-ons, even the older ones, which is great since there are some great add-ons to be had.
Conclusion
To conclude, Pale Moon is a great browser option if you're looking for a browser similar to Firefox but with better browsing speed.