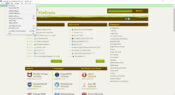 LobbyBrowser is a minimalist, Chromium-based browser that offers a simple browsing experience with a bit more focus on being beginner-friendly, although it has some advanced features, too.
Browsing the internet is one of the primary things we'll do on our computers. And for that, you'll need a good browser. Everyone has their favorite browser, and many people struggle to pick their favorite as they don't know the clear differences between them.
Some are faster than others, although they also consume much more resources.
LobbyBrowser manages to strike a balance between user-friendliness and functionality. It's a lightweight browser mainly designed for simplicity, although it also has some neat features that you'll find in other, more sophisticated browsers.
It features all the tools you'd expect from a browser and a simple interface, allowing you to access it safely and quickly browse the internet.
Minimalist Interface for User Friendliness
One of the distinct features of this browser is its minimalist interface. It's made with beginners in mind. Although this browser's main window might not look visually appealing, it puts functionality and usability first.
When you start digging deeper into the interface and the tools it offers, you'll see that it is quite deep.
When you start using it, you'll see that it's not that much different from other browsers. The navigation inside the browser is largely the same as with many other browsers.
The navigation bar is a bit different from the other browsers, as it spans across the entire upper section, which might seem a bit unusual at first, but it's easy to get used to.
Bookmark, See History, and More
LobbyBrowser has all the functionalities you'd come to expect from a browser. In addition to having the option to choose from a wide variety of search engines, which you'll select from a drop-down window, you'll be able to choose your favorite sites and save them as bookmarks.
You'll see these saved bookmarks at the top of the window, so you can access them instantly when you want to visit them.
Additionally, you'll be able to browse through your browsing history and see pages that you've visited in the past. You can also delete or review the history for several days or months.
There are not many advanced tools that you'd find in some other browsers, though, because this one mainly focuses on simplicity.
One of the main things to be improved is the browser's user interface design. However, once you get used to it, you'll find that this application is among the most functional browsers you can use today.
Conclusion
LobbyBrowser is a simple and intuitive browser with neat features that will benefit almost any user. It has some advanced features, such as bookmarks and history, as well as the ability to choose your preferred browsing engine.