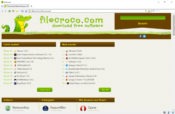 BriskBard is one of the applications that can provide you with all the online utilities in just a click away. You can check your emails, or browse a video online quickly, with a few clicks, by using this application.
It has various tabs that provide you with the required ease of handling all your necessary data whether they are emails or RSS feeds. Some of the functions that you can perform with this application include transferring files, checking emails, managing personal messages, provision of media player and newsgroup reader.
You can customize the interface of your application by assigning the color to each of the icons. You don't need to be very selective about remembering colors as there are specific icons that can help in providing you access to the features that you require.
One of the best features of BriskBard is to transfer data and files to anyone within a few seconds. You can even control your bookmarks and handle the downloads and uploads quite easily using this application.
You can even create folders, open them delete them and manage them depending upon your needs and choices. All of this doesn't require much of your effort.
You can manage your subscriptions related to newsgroups and can handle all your messages whether they are in the form of IMs or emails etc.
BriskBard provides you with a full medium to get all the online facilities without any problem.