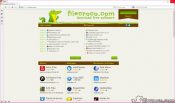 Opera is one of the fastest and most customizable web browsers today. It is a stable, mature browser with a loyal user base. And now, with Opera@USB, it is completely portable.
Now, you can take Opera with you anywhere and use it on any computer to replace Internet Explorer or Mozilla Firefox. The portable version of the popular browser comes with most of the features of the heavyweight program fully functional.
There aren't many things changed at all. Let's see what the portable application can help you with. First, you will be thrilled to find that the portable version of Opera does not interfere with other browsers. Don't worry about causing harm to any of these applications.
The most obvious benefit of the web browser is its ability to reside on a flash drive and work from it perfectly. You don't need to install it anywhere. Just plug in the thumb drive, and there you have it: Opera.
You can use it with any Windows computer at your friends, the Internet cafe, or school. All you need is a flash drive and a computer with an Internet connection.
The program does not leave any information or data on the computer it is used on. It means that nobody can track your activity (very useful in Internet cafes and at school). The browser supports extensions just like its older brother. Also, you can apply themes and skins to customize the program to your liking.
You get Opera Turbo, the feature that compresses web pages to take up less data on a metered connection. The Tab Previews feature is also present. Although it is not the most popular web browser, Opera is progressing steadily.
The user interface is constantly improved, and the speed at which web pages and scripts are rendered increases. Opera@USB also takes advantage of these improvements, so this little web browser is your perfect companion wherever you go.
You can use it on a laptop or a Windows computer anywhere. Although not installed, the program is stable and performs very well in our tests.
Compared to Mozilla Firefox and Google Chrome, the portable Opera is faster at rendering web pages and executing scripts.