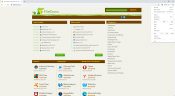 If you think earning just by browsing is a scam, you probably haven't heard of the Netbox Browser, which only gives you Netbox (NBX) coins by browsing.
So, if you're looking for a switch but haven't decided yet, why not try Netbox?
No Invasive Intrusion On Your Browsing Experience
It is the first decentralized blockchain-backed web browser. Unlike the more popular browsers, this browser isn't created by a major corporation looking to profit from advertisements.
It's not actively saving your browsing activities as a basis for selling virtual ad space, so you will find browsing with Netbox refreshing.
It boasts letting you keep your privacy and security, a big luxury considering how major browsers use your history to determine which ads you see.
It gives your cryptocurrency rewards based on your activity in the browser.
Earn While You Surf
Who wouldn't like to earn money while doing things they will do anyway? You can make a few NBX coins each day just by surfing.
Once you download it, you will automatically earn 20 NBX coins. You can also join their Telegram to receive more.
View your balance, transactions, and rewards in the NBX wallet at the toolbar, or cash out your balance.
Chrome-Like Interface But Better Security And Privacy
If you're used to Chrome, switching to Netbox Browser won't be much of a transition. The user interface feels the same.
The only difference, you'd feel more secure with the additional wall of defense provided by this browser.
Mine NBX Cryptocurrency While You Browse
As a browser, Netbox is very reliable, with the benefit of earning NBX coins while surfing. Netbox has a lot more in store in the coming years, and you can be the first to benefit from them by switching to Netbox today.