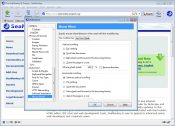 SeaMonkey is an all-in-one application meant for more advanced users, as it enables them to perform various tasks such as sending emails, browsing the internet, composing HTML files, chat, and more.
It is the complete tool that compiles some of the most popular tasks done on the internet into one neat interface.
It is primarily meant for more advanced users, but all types of users can use its features, regardless of your level of tech-savvy.
It also has add-ons that will greatly improve the functionality of the app.
Internet in One Place
If there were a phrase to describe this application as quickly as possible, it would be internet in one place. You'll see that most of the interface of this app is derived from the Mozilla interface – and that's because it uses the same code as Mozilla, too.
Much of the experience using this app will be similar to that of Mozilla.
This app has many different capabilities and tools that you'll find on the internet. Namely, you'll be able to browse the web through an interface that again closely resembles Mozilla and Thunderbird.
You can use tabs for browsing, popups, notifications, profile manager, and several other tools.
Emails, News, HMTL, IRC
What is more, the app also has some other capabilities that many users will love. You'll be able to send emails with the SeaMonkey email platform. You should know that you'll need an account for using all of the main features here, though.
What is more, you'll be able to browse the latest news through the newsfeed, create webpages using an inbuilt HTML tool that makes it possible for you to create customized pages and more.
And we should also mention that the tool supports IRC, the universal and most widely used chatting tool that allows you to communicate to other people through it.
Conclusion
To conclude, SeaMonkey is a great app to have if you want to squeeze several features that you use on the Internet into one interface. It's meant for more advanced users.
SeaMonkey features and benefits:
Sync allows you to keep your browsing history, passwords, bookmarks, preferences and tabs in sync across different devices

Tabbed browsing gives you a better way to surf the net
Session restore brings back all your open windows and tabs after the rare occasion that SeaMonkey crashes
Add-ons Management provides almost infinite possibilities to extend your Internet experience

Lightweight themes available
Tabbed Mail lets you manage your mail and folders in parallel

Junk mail controls help you take back control of your e-mail from spammers
Multiple accounts support helps you manage all your mail through one interface
Chat on IRC networks with this simple yet powerful IRC client

Debug JavaScript code on your websites