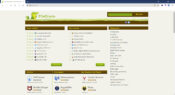 Maxthon Browser makes it easy and fast to sync personal data between devices and operating systems. It is how it creates a different browsing experience for PC and, at the same time, ensures effective interactions between users and between systems.
Storage features are also included to store users' downloads in the cloud. Content can be shared with friends through the Maxthon Cloud.
Web pages are displayed quickly as the browser makes use of both WebKit and Trident engines at the same time. Passwords are saved securely so nobody can see them, as in other browsers.
Everybody can also install extensions for entertainment, information, and social media.
Maxthon features and benefits:
Cloud Push: Supports sending text, images, websites/links and tabs to Mac, Android and Windows operating systems.
Cloud Share: Supports sharing text, images, websites/links and files with friends.
Cloud Download: Supports downloading files in various formats and uploading them to 'My Cloud' for backup on any device.
My Cloud Tabs: Lets you pick up where you left off by automatically syncing your tabs to Android, iOS or Mac devices.
Cloud Sync: Syncs account data (Favorites, Settings and Magic Fill data) to other devices.
Maxthon has a diverse selection of extensions for entertainment, information and social media.
Extensions are easy to install and manage with just one click.
Magic Fill: Maxthon securely saves the names and passwords of websites you visit and then fills in that information when you return.
Ad Hunter: Maxthon removes advertisements with one click, and automatically blocks annoying pop-up windows.
New Session: Users and gamers can simultaneously log into the same website with different accounts.
Source Sniffer: Extract all photos, embedded videos and audio files from a web page and download them with one click.
SkyNote: Save and access text notes anywhere, anytime. You can also sync them across Windows and Android.
"Do Not Track"‹ protects your privacy by preventing ad networks from tracking you.