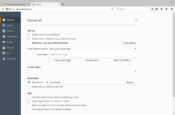 Waterfox is a web browser based on Mozilla Firefox but is striving to provide you with a better and faster browsing experience and some additional features that you won't find in Firefox.
There are many different browsers out there nowadays, and in that sense, consumers are spoilt for choice. Whether you want a fast browser or a silent and lightweight one, you will have an option for every kind of preference you might have.
It also means that many new browsers are entering the market, trying to get their share of users.
One of them is Waterfox. This web browser is built based on Firefox, as it offers all of the advantages that come with that browser, with some additional features that you'll find here.
These include customization features, security options, a tab-based interface, and the opening of multiple pages. At the same time, it will not waste your computer's resources.
Simple to Use
The browser was also designed with the user in mind, and it's really simple and easy to use. First, it will offer you the same customization options as in Firefox, although you'll need to match the requirements inside the requirements to get some of them to your interface.
You can use the built-in private browsing options with the proxy connections inside and a password manager that will help you store your passwords if you forget one.
Through Waterfox, you can also enable a higher security level by incorporating passwords, anonymous browsing, and VPN.
There are also cache management tools and offline browsing, which are some additional features you'll find here.
Additional Features
It also comes with some nice features overall that can boost your experience.
These include the Debugger, Web Console, and Style Editor, which will particularly appeal to developers. There's also the popup blocker and other protection advantages that come with it.
Conclusion
Waterfox is a popular and great browser to use when you want to have a similar platform to Firefox but with some additional features that you won't find in Firefox at all.