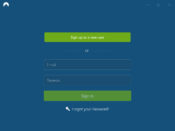 NordVPN is a reliable VPN service that allows you to hide your IP when you're browsing online and use an IP from a different country or another computer so that you're able to hide your real IP.
Browsing online today is full of dangers. When you go to unwarranted sites, they might force you to enter data or download files to collect your information. The good news is that you can protect yourself from potential predators online.
With a good VPN service, you'll be able to hide your IP and protect yourself from trackers and data leaks that might occur when you browse online.
You can connect to servers from all over the world with this VPN utility, which lets you use another IP address to browse safely and even access sites that are not available in your country.
Browse Safely
NordVPN has long been considered one of the best VPN services you can get. It requires a monthly fee, which enables you to use IP addresses from all over the world.
Whether you need it for work or if you need it to browse online and access sites that you aren't able to in your country, it will provide you with a safe VPN service.
It will also help you encrypt your data, and it will act as a double protection layer. Using various algorithms, This tool will help you encrypt your data while also keeping your connections speeds on quite a high level.
Support for Several Devices
What's even better about NordVPN is that you can use it on almost any device you want. If you wish to use it from your mobile phone or your computer, or even your tablet, you will be able to do so.
That way, you'll be able to prevent data leaks and tracking software on your computer or phone anywhere you might be.
Conclusion
NordVPN is a reliable VPN service that helps you stay safe when browsing online. It's a simple and effective service that enables you to connect to servers from all over the world.