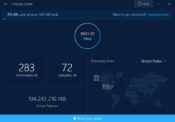 Hotspot Shield is a VPN service that helps you keep your identity hidden while browsing online and prevents you from losing data or information to trackers or other software targeting you while you browse.
One of the best ways to ensure you're safe online is to use a VPN service when browsing online. Hotspot Shield is one of the safest services for protecting your identity and keeping it hidden when you access various sites on the internet.
SSL technology will help you encrypt and secure your web sessions, secure your data when you browse online, and ensure your data transfers are safe and reliable.
The app works to help you keep your IP hidden when you browse, allowing you to keep anonymity online.
Access All Online Content
Sometimes, some sites will protect their content to only be visible to customers from a certain country. And when you want to view such content, you'll only be able to see it if your IP address matches the target country's IP address.
Hotspot Shield acts as a service that will help you change your IP address so that you're able to see such content online.
This app is pretty straightforward to use, too. It features a relatively simple interface where you can access all of this tool's features from one window. At the same time, it will not consume that many resources of your computer. You can connect or disconnect from the VPN service with a simple click.
Enhance Your Security Level
At the same time, you'll be able to configure and tailor the security settings to your needs. You can access certain options that will help you make the whole service suited to you easily.
Conclusion
Hotspot Shield is one of the most reliable VPN services that you can use. It will help you keep your identity hidden and access websites otherwise not accessible in your country.
Hotspot Shield features and benefits:
Secure your web session with HTTPS encryption
Hide your IP address for your privacy online
Access all content privately without censorship
Works on wireless and wired connections alike
Secure your data & personal information online
Bypass firewalls
Protect yourself from snoopers at Wi-Fi hotspots, hotels, airports, corporate offices and ISP hubs