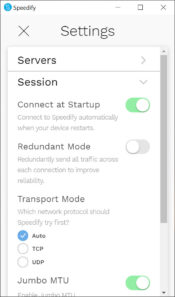 Get a single, more stable connection with Speedify, which will combine all your established connections (WiFi, DSL, Ethernet, and 4G) and mix them into one single, more stable connection.
You'll enjoy faster browsing speeds and a more reliable internet connection.
Friendly for Beginners
If you're worried that this app is hard for beginners, don't be. It's optimized so that even beginners can start using it immediately. All you'll need to do is input your login credentials and then start using the app. You'll receive a password first through the email address you have entered into the app.
There are also more advanced options should you wish to take advantage of them in this utility, although those are meant more for seasoned users.
Get a Faster Connection
Speedify is excellent at what it does. It combines several types of connections and merges them into one more powerful and robust connection. It will find the best speed server for you and look around the world to do this.
You won't need to do anything, as the app will find everything you need. After the app is done, you will need to set everything up to enjoy faster browsing speeds. You'll be able to watch movies, play games, and listen to music much easier.
For those more interested in the advanced technology behind the app, it uses Channel Bonding, a technology that sends single packet data through several sockets.
It makes the connection faster and more reliable. It splits the connection into several pieces, which enables it to stay secure even if there is a roadblock somewhere.
Conclusion
Speedify allows you to enjoy a faster browsing speed as it will merge your existing connections and help you find the faster internet speed that will help you want to browse more. It can help you get a secured VPN connection and high-speed internet every time.