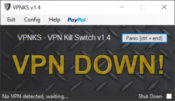 Another way of securing your data while browsing the web can be managed through VPNKS. It can be considered as a backup if your VPN fails to keep a secured connection alive.
VPNKS can stop all your traffic, thus reducing any chances of getting your data leaked. You can activate it on your device to see how it works. It can keep a close eye on your VPN connection to ensure that you are enjoying the safe browsing experience. In case your VPN connection drops, you can quickly consider yourself safe without being panicked about the possible disclosure of your information. That is because VPNKS is designed to protect you in such situations.
You can use it with all VPN solutions without any problems. Additionally, it can be managed in the tray of your desktop. Moreover, you don't have any specific limits, while using this application, so you can expect this application to keep working for you as many times as you like. It can be updated automatically to keep you protected all the time.
It does not keep on working every time so that you can expect little interference in the other operations of your computer. It shutdowns automatically when not needed. You can even get it started with the start of Windows as the default setting to ensure that you don't get traced even for seconds.
VPNKS is a VPN backup application that you can use for providing you with data security even if your VPN connection breaks.