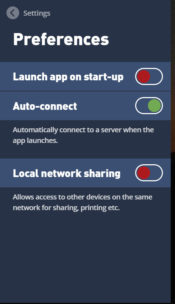 Mullvad acts as a virtual private network that allows you to hide your real IP address and the addresses of other computers connected to your network.
When browsing the Internet, one of the major concerns is your privacy. You're constantly tracked by various trackers and cookies, making it hard to hide your identity.
So you can use a hidden and private networking utility like Mullvad, which helps you browse the web with a fake IP using VPN technology.
Use Fake IP Addresses
It is easy to use and configure to start with. You can access it through the system tray when needed, as it will enter and minimize itself into the tray when you're not using it.
It will also send you notifications if anything happens when you're using the application. You'll need an account to get started, though.
This tool's main capability is to let you connect to the Internet with a fake IP address. You'll get assigned one when you launch the application and select to start the connection.
You'll also get a free protocol and port number, where you can see what country you've connected to, the IP address you're using, and add new ports to the list.
Additional Configurations
In addition to using a fake IP address, it will also offer you some other capabilities that will enable you to browse safely. As mentioned, you'll be able to add new ports to an existing list, stop DNS leaks, block the Internet upon failure, exclude Swedish traffic, and run the application at the startup of Windows.
It's a very lightweight application that won't strain your computer and its resources.
You can run and leave it in the background, minimizing the system tray. You can click the icon to change some settings to get back inside the app.
Conclusion
To conclude, Mullvad can be a great addition to your apps if you want to browse safely and use a hidden IP as you do that.