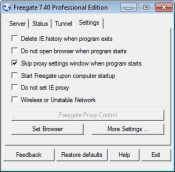 If you're struggling with not being able to access sites that are restricted, then you need to do something about it. Freegate is an excellent tool that will help you stay safe when browsing the internet.
It is an app that removes these restrictions by preventing you from getting blocked by the network settings.
No Setup
When you want to start using the app, you won't need to set it up. You only need to double-click the .exe file and get started.
From there, the app will ensure you are safe when browsing the forbidden sites and automatically delete your browsing history, so you won't have to worry about getting detected, too.
Fast and Safe Browsing
The app is very lightweight, so it won't use up that many resources when running. At the same time, it will automatically improve the browsing speed of your connection. It will scan multiple proxies from the list and ensure it finds the fastest one so you can browse more rapidly and reliably.
Everything is done with the help of an intuitive and straightforward interface that only includes what's necessary for you to use.
The app will automatically detect the browser you're using so that it will know which sites you tend to visit often. With that, it will ensure these sites are entirely accessible to you.
Browsing History Cleared
The app also makes sure your browsing history is cleared. It allows you to stay safe when you're browsing, and it will also help you avoid getting detected by blocking software, so you'll be able to browse without too many worries.
Conclusion
Freegate is an intuitive app that lets you stay safe when you're browsing while also maximizing your browsing speed at the same time.
Avoid detection and visit your favorite websites on the internet while optimizing browsing speed and ensuring you stay safe while browsing.
Freegate features and benefits:
users access web sites overseas as fast as their local ones
requires no installation or change in system settings
a single executable file