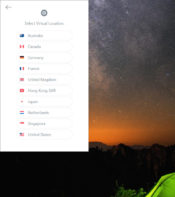 Browse the internet safely thanks to the premium VPN service called Betternet, an application that will help you hide your IP and stay safe from potential threats on the internet today.
Today, many people don't browse the internet without using a VPN service. This service will help you hide your IP by connecting to a remote server in your country or another. With that, you can browse websites that are not accessible in your country or stay safe when browsing online and keeping your data hidden.
Betternet is one of the best VPN services that you'll find today. It features a strong system to protect you from the potential dangers of the internet, hide your real IP, hide your information and data, and visit various websites unavailable in your country.
Browse Blocked Websites
One of the main reasons why many people use VPNs today is to visit websites that are not accessible in your location or visit websites of a potentially harmful nature. It might be websites you visit purely for fun, or perhaps it's even websites you need to view for school or work.
Thanks to the large variety of locations you can connect to, Betternet offers you a good chance of connecting to the internet without facing geographical restrictions. It might be because of political agreements in your country or perhaps due to various laws that prevent these websites from being shown in your location.
You can also stay free of ads and various trackers that might keep tracking you on the internet. There are more and more of these trackers, but people like to keep their identity hidden when they browse online for many reasons.
Stay Safe
Another huge part of why people use VPN services is to stay safe online. It might be to protect their data or themselves from potential hacker attacks.
Conclusion
Betternet is a premium VPN service that protects you when browsing the internet.