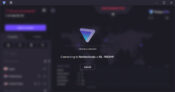 Stay safe and protected while you browse online with ProtonVPN, one of the leading VPN providers with a modern interface and user-friendly features that will help you stay safe online.
If you're looking for a good VPN service, you're spoilt for choice. In the last few years, many cybersecurity professionals have endorsed VPN services for browsing online, which helps you avoid cookie collecting when you visit web pages.
Also, it helps you access some websites that are perhaps not available in your location.
It is one of the leading VPN providers in the world. It has millions of users worldwide and provides its users with some nice features. It allows you to browse the internet anonymously as you connect to remote servers to cloak your real IP.
You can also bypass geolocation restrictions and visit websites that are otherwise not available where you are.
A Modern VPN
ProtonVPN is a nice and modern VPN. It faces strong competition from several other VPN services, although it manages to stay on top thanks to its nice and clean interface that is also modern. It has a clean black UI that fits nicely, especially with Windows 10.
On the main window, you'll see the main servers from all over the world you can connect to.
Advanced Set of Features
ProtonVPN has all the features you would expect from a modern VPN service. It distinguishes it from some other VPNs. It allows you to connect to remote servers and cloak your real IP to use a remote IP. You can also use Proton Mail, the mailing service of this company that's safe and protected to use.
Additionally, it integrates nicely with Tor to browse with Tor. All of your data will stay confidential, thanks to the strong algorithms that the company uses to keep your data safe.
Also, you'll be able to use a free trial, although this will expire after a certain period. You can connect to countries from all over the world.
To Conclude
ProtonVPN is a modern VPN service with advanced features and a clean interface.