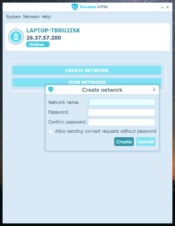 It is essential to use a VPN to protect your web surfing experience, and this is why you will probably find Radmin VPN pretty useful. This one enables you to connect remote machines in one virtual network. It is a fast and easy to use tool that will be needed to create a private network.
The program allows users to connect to remote computers, and it will also provide you with the security you need to stay safe, and you will undoubtedly like the secured VPN tunnel that this one will have.
It will also offer you the encryption you want to keep your connection safe, and you will see that this solution will be a tool with a friendly interface that will work well. It will offer you the high speed you need, and as you will see by using it out, the speed can quickly go up to as high as 100Mbps.
Radmin VPN is also a reliable tool, and you will see that the chance of happening any malfunction will be minimum. It means that the VPN tool can be used for an extended period, and you won`t have any issues with taking full advantage of it.
It is easy to manage, and you will see that it is also easy to set up, so you should certainly take advantage of it. You will never have any issues while using this tool, and you will have the protection you want thanks to it.
It will help you create one network, and it will always allow you to connect to remote PCs even behind firewalls.