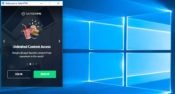 Safer VPN enables you to browse the Internet with no limit, and you can see that this one is a simple-to-use VPN for all your needs. First, you must know that it lets you quickly access content from anywhere globally because the VPN (more precisely, the servers through which traffic is redirected) helps you overcome all browsing restrictions.
You can choose an IP address from worldwide servers, and this is how you fool any government or website into thinking that you are in another location. Unlocking sites and accessing online streams is easy if you decide to use this tool.
You can stream your favorite movies and shows while traveling abroad. Streaming music and watching sporting events is also a thing that can be done with this Safer VPN.
Unblocking apps is possible by configuring your digital media players on your Chromecast. Gamers can also benefit from this VPN because they can easily access content using Steam, Xbox Live, or PlayStation Network.
Unblocking Smart TVs and using VoIP applications are also some things that can quickly be done using this tool.
Concealing your online identity is important because internet privacy is under threat from all types of governments, snoopers, and advertisers. You can hide your identity online thanks to the VPN`s anonymous connection. No one can identify your data, and you won`t leave any footprint on your online activity. Without a VPN, your privacy is at risk.
Metadata tracking won`t be an issue because no one can tell where you are from. Preventing third parties from tracking you is essential, and this is why you may find this Safer VPN useful.
It prevents companies from aggregating metadata about your Internet habits and selling them to third parties.