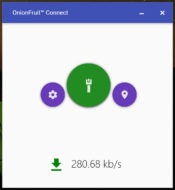 With OnionFruit Connect, you will be able to quickly access the Tor network with just a few clicks, which will ensure that you stay safe and secure when browsing and keep your identity hidden.
More and more people are starting to use private networks that will keep your identity hidden, such as Tor.
It has happened because of the more frequent attacks that happen online, especially when it comes to malware attacks and data collection that gets exposed when you search the internet with your account.
Luckily, more and more applications enable you to browse the web safely and in a hidden way.
One of them is OnionFruit Connect, a lightweight application that will let you connect to Tor almost immediately. It will not make unnecessary changes in the process, such as renouncing your browser and more.
Connect to Tor
Tor is among the most popular hidden networks that many people are becoming more and more aware of. The  tool's main focus is that it's incredibly simple to use, both in installation and later use. It will help you connect to the Tor network with just a few simple clicks.
But before that, you'll need to install it on your computer, which should be a hassle-free procedure. It will show you the connectivity status in the main window as well as your connection status.
And you can then connect to the Tor network with just one click on the button that is located in the main window of the app.
Stay Anonymous
One of the main factors why people prefer to use Tor to browse the web is because they can stay safe and keep their identities hidden. It will act with an encrypted connection, so your data should not be sent to the internet.
Conclusion
OnionFruit Connect is a simple and lightweight app that will help you connect to the Tor network with just a simple click. It will help you stay safe and hidden when browsing online, too.