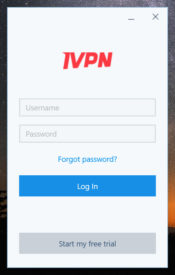 IVPN Client is the client for IVPN, a VPN service that allows you to connect to a remote IP address and protect yourself, which helps you browse more securely and access some blocked sites.
One of the biggest problems when browsing the internet is the safety of your data and information. Many sources are looking to exploit your information for their gains, and you'll want to be as careful as possible.
That's why many users have started using VPNs for browsing the internet or doing other functions online.
IVPN is one of the more popular VPN clients that allows users to connect to IP addresses worldwide, allowing them to browse the internet remotely. IVPN Client acts as the interface on your computer where you can establish these connections.
You can establish quick connections that will protect you and your data.
Stay Hidden While Surfing the Web
IVPN offers all the biggest tools that most other VPN services use. Namely, you can pick any location you want to connect to anywhere in the world.
The most popular locations include the USA, Canada, Hong Kong, and France.
While there are not as many servers as some other VPNs, these seem to be more secure, certified, and faster.
Browse Blocked Sites
Another advantage of using a VPN service like this is that it allows you to browse sites you weren't previously able to. It might be because the site is blocked in your location, so you can start enjoying the site when you connect to the remote server.
Also, you can stay safe because your personal information will not be exposed.
You can also tweak some settings to improve your performance and make for faster connections.
Conclusion
IVPN Client is a fast and reliable VPN service that allows you to connect to IP addresses worldwide to help you stay protected and enjoy the full internet experience.