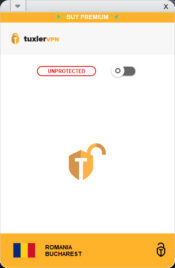 Tuxler is an intuitive VPN that will help you change your real IP address and use another IP address from another country or area, allowing you to bypass restrictions and make sure that you stay safe when browsing online.
Tuxler is primarily designed to be lightweight and easy to use. It's a VPN that helps you connect to another IP address, allowing you to access various websites that you weren't previously able to connect to and make sure that you stay safe and that your real IP is hidden.
You can do all of that in just a matter of seconds.
Lightweight and Fast
One of the best features of Tuxler that sets it apart from most other similar tools is that it's incredibly fast and lightweight.
First, you'll see a full list of connections that you can make and connect to, along with the countries where these connections are from.
You can do all of that in a matter of seconds, as you can click and connect.
Change Your Real IP
There are many advantages of changing your real IP address and connecting to another IP. First, you'll be able to hide your real data and prevent trackers from collecting your data and gather information about you.
It is critical in today's world because many different trackers and various apps are looking to collect your data.
You'll also be able to access some websites and places on the internet that you wouldn't normally be able to connect to.
It is great if you like watching various films or series that you can't watch in your location, watch sports, and access files or multimedia files that you wouldn't be able to access before.
Configure Your Connections
Even though you can connect quickly and easily, you can still change some configurations to tailor the experience for you completely. You can select to start the app at startup or not, and you can also change HTTP addresses before connecting.
Conclusion
Tuxler is a lightweight VPN that allows you to connect to a different IP in just a matter of seconds.