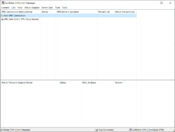 VPN Gate Client Plug-in is a plugin created for SoftEther VPN, and it can be used to hide your real identity online and browse securely and access some websites that aren't available on your location.
If you're a SoftEther VPN user, then you'll need to download and install the VPN Gate Client Plug-in, which is available here.
The main task of the VPN is to help you conceal your identity on the internet and use another IP address, which can help you save your information and secure your data, so it doesn't get discovered by other users.
Install the Plugin in SoftEther VPN
The plugin will come together with the SoftEther VPN package, which is great since you won't need to download the two separately. To use them, you'll need to install them quickly, and you can get to work.
When you open SoftEther VPN, you'll see the plugin in the main interface. It should be available with one click, as you can open up a new window to see the list of VPN relay servers you can connect to.
You need to select the server you want to connect to and get started with the connection.
Hide Your IP
This tool's main purpose is to help you safely conceal your IP address and browse the web. You can select which location you want to connect to, allowing you to access content and websites that aren't otherwise available in your location.
Moreover, using a VPN will be highly valuable for those users who don't want to show their true identity and want to keep it hidden instead.
You'll be invisible with your real IP, as you will be using a different IP as you browse the internet.
VPN Gate Client Plug-in is useful when you don't want to give up your information and data about yourself.
Conclusion
Browse the web safely with this VPN plugin that slots in nicely with SoftEther VPN and keeps your connection secure.