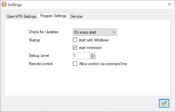 It is one of the open-source software to provide you with a VPN that can protect your data and provide you with security against threats. OpenVPNManager can keep your data secured and provides you with the highest level of privacy while browsing online.
It can create tunnels to hide the source of browsing. It encrypts all the data generated from your computer, protecting all the traffic.
Moreover, you can also keep your identity anonymous while browsing online. It can help reduce the chances of hacker attacks on your computer and network.
The application's graphical user interface makes it easy to use and manage the servers for browsing anonymously online. However, the number of servers that are provided by this application is limited in number.
OpenVPNManager is an efficient application for browsing online with encrypted data and the possibility of keeping yourself anonymous.