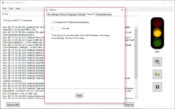 Mask Surf is a program specially designed to help you to keep your identity anonymous online. All you need is to start the program, and your computer programs will run anonymously.
Using Mask Surf, you can be sure that anonymity can be maintained at the operating system level. You can also get the option of making some of the programs to function as anonymous ones. You can select those programs and add them to your default settings.
Mask Surf uses a network of tunnels through which a fake identity can cover your original identity. TCP technology even considers your IP's different locations, giving you the extensive coverage you want while surfing online.
The straightforward interface of Mask Surf is another reason that most users consider it to hide their identity. You don't need to be a software expert to set up everything to get it running.
Mask Surf is an identity-hiding software based on TCP technology and tunnel passages to cover your identity and hide your data online.