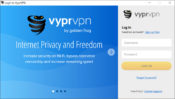 With VyprVPN, you'll be able to switch between VPN protocols and connect to IP addresses from all over the world, which will help you keep your data safe and connect to websites that are not available to you.
It is known to be a fairly reliable VPN service with affordable prices that will let you connect to various locations all over the world.
You can change your IP address using this VPN, allowing you to keep your real data safe and protect yourself.
It's also a useful tool to help you connect to websites and locations that you wouldn't be able to otherwise.
Simple and Easy to Use
This solution puts a lot of emphasis on being as user-friendly as possible. It's designed to help you ensure that you can connect to a server from anywhere in the world with just a couple of clicks.
They have strong and quick servers, too, which will allow you to ensure fast connections without too many interruptions along the way.
Another useful thing about Vypr is that it's easy to use. It has a very simple interface where you can connect to a remote location in seconds.
It will show you your current data transfer speed in real-time in the main window, connect to servers worldwide, see their connection rates, and quickly switch up the connection.
Secure Your Connection
VyprVPN also ensures that all of the connections you make are as safe as possible. They have secure remote servers that will enable you to stay safe while browsing and easily find the locations you want to connect.
There are various encryption modes that you can choose from, including Chameleon, which will offer you 256-bit encryption.
Then there's the PPTP mode, which enables a 128-bit encoding connection and some other connection modes. Which one you select is up to you entirely.
Conclusion
Stay safe when browsing online by using VyprVPN, which is a fast and reliable VPN service that lets you connect to remote servers in a matter of seconds and just a couple of clicks.