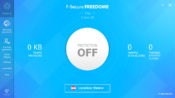 F-Secure Freedome is a VPN tool that will automatically hide your IP address and relocate your private and personal IP to another city or country, so your experience while using the internet will be secured.
Security is one of many people's biggest concerns when browsing the internet. Whether it's tracking or malware that you're worried about, some of these concerns have been getting more and more important in recent years, thanks to the rise of tracking options online.
However, you do have some options that you can take if you don't like them.
For example, you could use the F-Secure Freedome application. This tool will help you conceal your real IP address as it will allow you to browse through an anonymous location.
It will also help you block any potential tracking attempts that might be put on your device, helping you stay hidden and protected online.
Hide Your IP
This application's primary role and function are to give you the ability to hide your real IP address. To do that, you can connect to an anonymous location and browse through that location, giving you the security you need when you browse the internet. You'll be able to match your browsing location based on your needs.
Some of the most popular locations you can connect to include Tokyo, Warsaw, Stockholm, London, Paris, Milan, Madrid, the West and East Coast, and the US. You can connect to these locations instantly when you select them.
It will also protect your experience if you use public wi-fi by taking advantage of the OpenVPN protocol and using AES-256 encryption.
Handy and Easy to Use
F-Secure Freedome is easy to use with its simple interface. All you need to do to use is select the location you want to connect to and click on it.
Then, the application will start the connection on its own, and you can begin browsing safely without the feeling that you're being tracked.
Conclusion
For safer browsing, you can use F-Secure Freedome, which will let you use an anonymous IP to help you with your browsing.