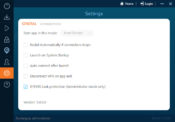 Ivacy is a useful VPN tool that will enable you to connect to various servers from anywhere in the world, which can allow you to stream services and access content from anywhere in the world, no matter your location.
Sometimes, you want to watch content from another country that might not be accessible in your location.
That might be because of the selected country's restrictions, or the websites or content might not be available where you live. To do that, you can use a specialized piece of software called a VPN.
Ivacy is a user-friendly VPN that will enable you to connect to a server from anywhere in the world, allowing you to access content that is not available to you in your location and protect your identity.
It comes with a sleek and simple user interface that helps you establish connections quickly and get started.
Easy to Use
When you install this application onto your drive, you will be able to start using it as long as you have your account ready.
As you sign in, you will see that connecting to a server will be very quick and can be done with just one click. You can connect to a random server or specify which country you want to connect to.
Protect Your Identity
When you do that, you will protect your identity online, as you will be browsing using a different IP. It means that your true identity will be fully hidden as you search the web, which is great if you're worried about data and information collecting.
There are also additional settings and functions that you can use, such as content streaming from popular platforms and more.
There's also the split tunneling function that you can use and some additional functions that make Ivacy the go-to option for many people.
Conclusion
To conclude, Ivacy VPN is an effective solution for protecting your privacy online and accessing the content that is not available in your location.
It's simple to use, and it has a neat user interface that allows you to connect quickly.