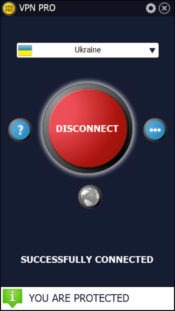 Today, staying safe when using the internet should be one of the priorities for almost every user. There are dangers to be had virtually every step of the way when you browse. Whether you're downloading data, entering your personal information, or buying online, you want to ensure that none of that information gets into the wrong hands.
One of the best ways to protect yourself is to use a VPN. A good VPN service will help you conceal your real IP address by replacing it with an IP address from another country.
VPN PRO is an intuitive VPN service that enables you to connect to servers worldwide to hide your address, stay safe online, and access websites that are otherwise unavailable in your location.
Easy To Use And Intuitive
When you want to get started fast, simplicity of use is very important. And one of the bigger advantages VPN PRO has over its competitors is its simplicity. The interface is somewhat simple, as it only has the information you need to start.
To connect to another server, you must scroll down from the list of countries and select the country you want to connect to.
If you want higher speeds, you might select your own country or a neighboring country. However, if you wish to access websites only available in certain countries, you might want to choose a specific country and connect to that server.
Either way, you'll experience varying browsing speeds, which will be higher if you choose your country.
Not Many Advanced Options
VPN PRO is aimed at beginners and those who want to connect fast. In some ways, that's great, although you don't have access to some more advanced settings here. If you're a more advanced user, you might find no options or settings for advanced users.
You can still configure the connection timeout as well as the language of the interface. However, the not-so-good thing about this app is that it's not available in the system tray.
You can't make changes in the system tray, so you must open the app again to connect to another server. It can take some additional time, and it's not the most convenient thing in the world.
You also can't filter the re-routed traffic. The main feature is, of course, connecting to the server and hiding your IP address.
Conclusion
VPN PRO is a simple and intuitive app that helps you hide your IP and connect to a server worldwide. It allows you to visit websites that are not available in your country or stay safe when browsing online.
Hide your IP address and keep your identity hidden with this professional VPN service that helps you access websites and online addresses unavailable in your location.