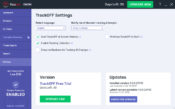 TrackOFF is an application that helps you to keep your online activity hidden from hackers and third-party intruders. You can access a dashboard, which will provide you with the basic information about the statistics related to tracking and data intruders along with a modern and intuitive interface to let you explore the application.
It can provide you with a list of trackers that were recently found in your system. Additionally, browsing data and the tracking score can also be offered to you in this application. It protects specific applications by default, but you will need to have extensions installed for some of the applications.
The fingerprinting technique can be used to keep your data secure. In this technique, your unique computer ID and the web browser data is shielded, so there are no chances of getting any intruders into your system.
TrackOFF secures all your activities, including the downloads, uploads, browsing, and any activity on social media, and provides you a mechanism to protect your tracking ID and keep the unwanted parties out of your system.