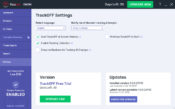 If you don't want to be tracked online, you can use TrackOFF, a tool that will prevent various companies from sniffing out your information online.
We live in the era of the internet. Companies and people are looking to exploit the power of the internet to collect files and information about others.
Sometimes, this type of connectivity can be an advantage. Other times it can be a danger to everyone using the internet.
With TrackOFF, you can prevent this from happening by preventing various tracking companies from collecting your information.
This tool will make it near impossible for various trackers to collect your information, especially on the most commonly used browsers such as Chrome or Opera.
Stops Tracking and Collection of Your Data
It is for anyone who wants to get an additional layer of safety when using the internet. This app will detect any tracking service that might be deployed on the sites you've used, as it will give you a warning that these services exist and that your data might be compromised.
In addition, you will be able to get various information about yourself, such as your tracking ID and your tracking score.
It will give you clearer information about how your files and data are being collected online. This information is provided in a fairly simple dashboard that makes it easy for you.
TrackOFF can also be useful if you don't want to give away information such as biometrics, including your fingerprint and other information that you might use for security purposes.
Works for Different Browsers
Another advantage of this tool is that it works with the most commonly used browsers, including Chrome, Internet Explorer, Opera, and others.
You might need a separate extension for some of them – especially the case for Chrome.
Conclusion
TrackOFF can enable you to stay hidden when you use the internet. It prevents various sniffers and data collectors from encroaching on your data when using your favorite websites.