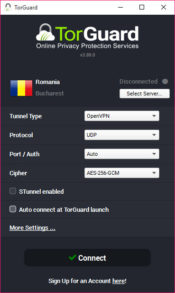 TorGuard is an application that will help you connect to the internet safely by providing you with multiple servers to connect to and an interface where you can configure the level of security you'll use.
Browsing the internet can be one of the most fun and time-consuming activities at the same time. It can be highly informative but also entertaining in its way.
However, browsing the web doesn't come without risks – there are many privacy concerns with the internet nowadays, and you might expose yourself to people you don't want to.
You can make sure you don't do that by using TorGuard. This application comes with a simple interface that allows you to connect to an anonymous server where you will save your settings and keep your data safe.
It packs many additional features and is simple to use, and above all, it will keep you safe.
Simple Installation and Use
When you first want to use TorGuard, you will need to install it onto your system. Installation is simple – you will not be offered any additional pieces of software along the way –follow the steps, and the installation will be complete.
The application comes with a simple interface. In the main window, you will be able to select which server you will connect to and some additional settings, like choosing the tunnel type and the protocol you'll use for making the connection.
And if you want to configure different settings, you can click on "More Settings".
Keeps You Safe
It was designed to keep you safe while you browse the web. It will enable you to connect to a location of your choice so that you can browse anonymously without exposing your information.
To do that, you will keep your IP address hidden and make sure that you don't expose your data to other users online that might be looking to exploit you.
Conclusion
TorGuard is a powerful application that will help keep you safe and browse anonymously by connecting to a remote server of your choice.