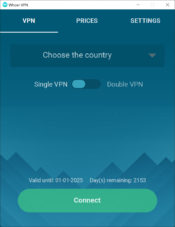 Whoer VPN is a lightweight and effective VPN solution that will help you browse the internet with remote servers, strengthening your privacy and enabling a better browsing process.
If you're looking for a lightweight VPN that won't consume that many resources from your computer, then Whoer VPN could be the right solution. It will still provide you with all the key resources you need from a VPN, just in a more lightweight manner.
It allows you to browse the web privately and visit websites you weren't previously able to visit.
Simple Installation and Lightweight Performance
When you start to use Whoer VPN, you'll need to install it first. The installation is quite brief and should not be that problematic. All you need to do is select the drive you want to install, and it will be done quickly and without problems.
When you open up the app, you'll instantly see that you'll entered the main window. From there, you can start establishing connections where you'll be able to browse remotely.
You'll need first to enter your access code, which every user must do when they first start to use this application. From there, you can select your server.
Browse Safely and Visit All Websites
The main purpose of a VPN tool like this one is to give you the ability to safely browse the internet and make sure that your privacy is hidden.
It allows you to ensure you don't give away personal information and important data collected when visiting various websites.
Moreover, you will also visit various sites that aren't available in your country. It is useful when you want to visit a website with geo-restrictions, and you're unfortunate enough not to be able to see it from where you are.
Conclusion
Whoer VPN is a lightweight VPN that helps you browse the web safely and quickly with its modern interface.