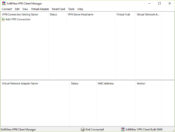 Your internet connection has to be secure and to have such a connection. You need a reliable tool that helps you achieve the level of security you want.
You probably already know that some websites require you to be in a specific part of the world to enjoy their content. These geo-restricted sites can be reached if you use the right tools to help you.
It is the case of SoftEther VPN, which can be a useful tool for you because it offers you many options to access all the websites you want.
If you are a company looking for a reliable solution, then SoftEther VPN can be a good choice because organizations can also use it.
SoftEther VPN can also have a secure connection; your information won`t be visible if you browse the web. The tool supports all of the most known VPN protocols, which means that your information is secure.
It can be set up behind your company firewall, which means the employees can efficiently work from home if they want to.
They can even use devices such as phones and tablets to use this tool. This tool can be a good choice for any individual, and it is a perfect tool, especially for companies looking for free-to-use tools.