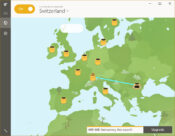 TunnelBear is one of the most popular VPNs in the world, offering you anonymous connections anywhere in the world, allowing you to access various websites, and stay hidden and safe when you're browsing.
It is seen as one of the most user-friendly and intuitive VPNs. It features a distinct design where the bear is in the middle.
You can connect to servers from all over the world, giving you access to websites that are otherwise not available to you and ensuring protection when you are browsing online.
Protect Your Identity
One of the main reasons people use VPNs is to help them conceal their true identity and stay safe while browsing. You can do that by connecting to many servers from all around the world. And this app will help you achieve that, too.
It will encrypt your connection and protect you when browsing. You can rely on the safe and secure performance of the application servers. You can also view sites you weren't previously able to due to geographical restrictions.
Overall, it offers everything a top-notch VPN would offer.
Bear-Like Design and Free Data
Another great thing is that it will give you 500MB of free data every month, provided that you create an account with the app. You can get an additional 1GB of data if you spread the word about the app, which is what not many other companies offer.
Another appealing factor of this VPN tool is its design. It has a unique and particular design where there is a bear in the middle of it.
When you begin a connection, the bear will start "digging" a tunnel to the target location to provide you with the connection. You can also configure other connection settings if you get a TunnelBear account.
Conclusion
To conclude, TunnelBear is worth your time. You can try it out initially and then see if you're happy with it.