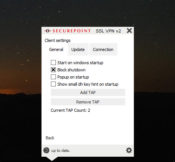 Securepoint SSL VPN Client will secure your browsing on the internet, and it can be used for both personal and company needs for enjoying a private and secure browsing experience.
We know that today, online privacy is at a premium. Wherever we go on the internet, we are always screened, and our data is taken from us. However, if you use a VPN, you can make yourself much safer when you're browsing, and you can also protect your identity online.
Securepoint SSL VPN Client is a neat and lightweight VPN solution for personal and enterprise use. It will allow you personally or your company to browse the web securely and safely without giving away too much of your personal information.
Easy to Use and Lightweight
It's a lightweight solution that won't take too much of your computer's resources. You can connect to the application servers, or you can find third-party VPN servers and connect to them. You can select one freely selectable port, either UDP or TCP.
It will provide you with a 100% secure connection, and your data and personal information will stay safe. It will protect you from data leaks, which can sometimes happen online.
And if you use the internet often and browse potentially harmful sites, then a VPN service like this is a must.
For Both Personal and Enterprise Use
Of course, this VPN service, like most similar services, offers you the option to use this VPN for your personal needs. You can now browse different websites without worrying too much about your privacy.
But it's also an excellent solution for teams and larger companies. It can be used where multiple users are involved, making this tool a fantastic option for large-scale operations.
Besides, there's also a user-friendly user interface with this application, making the VPN service easy to use.
Conclusion
If you're looking for an excellent VPN service for your personal or enterprise needs, then you should consider Securepoint SSL VPN Client. All passwords and user names are encrypted, making it 100% safe.