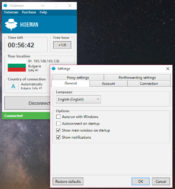 Hideman is an application that will help you hide your real IP and use a different IP as you browse the internet, which allows you to keep your privacy secure and your data, too.
One of the main concerns when browsing the web is that your IP address is often exposed and vulnerable to potential threats, scammers, and spammers.
Many users choose to use a program that will help them hide their real IP so that they are safe from these threats, enabling them to browse in peace.
You can also do that with Hideman. This application was designed to provide you with a high-security level when browsing online, as it will hide your real IP and use a different IP so that you remain hidden and your data intact.
Protect Yourself
When using this VPN tool, you'll see that it will connect to a completely different IP address from the one you're using at the moment. It allows you to stay safe when you browse the web, which will keep you safe from hackers, spammers, and scammers.
What is more, you will prevent your data from being collected, which is great news for those who hate cookies and other trackers.
At the same time, the app will provide you with 256-bit encryption, which provides another powerful layer of security when you use Hideman.
Run at Startup
If you want, you can configure the app so that it gets started when you open your computer. It will allow you to make sure you're always protected when using this app, even if you don't open it when you open the computer.
It doesn't take a lot of computer knowledge to help you use this application, which is great if you're a beginner.
Conclusion
Hideman will help you stay safe and make sure that you don't expose your information and data to potential threats online, making sure you have a different IP from the real one, allowing you to encrypt your connection.