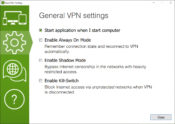 You must employ a proxy to block your identity and location if you need to access the files without any geographical restriction. One such application is Seed4.Me VPN.
It can help you in browsing the internet without the chances of being tracked.
It can be easily accessed from the system tray. Connecting it will lead you to direct online browsing with the VPN feature.
However, one of the important things to consider is that you will have to connect Seed4.Me VPN for secure browsing. It would help if you did not assume that installing it will get it to work automatically.
PPTP protocol with MMPE strong 128-bit encryption is possible with this application so that you can remain secure from hacker attacks. Using it can enable you to transfer all your files without any problems. Your data traffic can be secured with this application.
Seed4.Me VPN allows you to keep your browsing anonymous, surf the internet without geographical restrictions, and keep yourself safe from hackers' attacks.