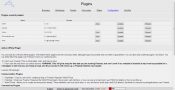 FreeNet is a peer-to-peer environment that helps you share, download, and browse content and files with other users in a secure way.
It has a whole suite of features that allows you to browse the internet safely and access various files and content from other users on the platform. It also features a chat forum where you can connect with other users.
It's a Java-based application that provides a safe environment for downloading, sharing files, and communicating with other users.
Browse Safely and Anonymously
Compared to some other similar P2P tools that you'll find out there, FreeNet is among the best ones to ensure you stay safe when you browse through the platform. It has some very strong anonymity settings, which help ensure you're secure when you access the platform.
The information you receive and send is encrypted, so it's only accessible to the people that need to see it.
When you want to run this program, you'll first need to download and install it. From there, you'll be able to choose from three security modes. Each one offers additional benefits – the first one features a low level of security.
The other two are a bit more strict regarding security, although they limit the number of users you can connect to.
Two Main Modes of Operation
When you use this application, you'll have two main options for the way you use this app. The first mode of operation is the darknet mode. This mode allows you to only connect to your friends. The second mode is the opennet mode, enabling you to connect all other users on the platform.
It is a P2P network where people share, download, and get files from other users on the platform. The data is transmitted between nodes and stays there once the file is downloaded, allowing you to stay safe even if you download a lot of files.
Conclusion
FreeNet is a P2P tool that helps you safely access files from other users and easily connect with them.