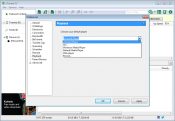 uTorrent is the tiniest file-sharing software. However, it is fitted with powerful yet light features that enable users to download torrent files in a smart and fast way, thanks to the newly integrated uT protocol. This network congestion detector manages traffic jams, thus optimizing the download process.
Download Torrent Files and Manage Them
For the installation, you'll need to be careful as you might have to install some third-party products along the way. You can avoid that by ticking off the agreements as you're prompted to do so.
Other than that, the installation should be simple enough. We recommend setting the download folder right away before you start any downloads so as not to save them to the wrong locations.
Once you're done with installation and setup, you'll be able to download torrent files. To do that, you'll have to have a torrent file on your computer, which will act as a magnet file for the download you want to make.
All you need to do is open the torrent file with uTorrent, and select the destination folder. Then, you can start the download. It's as simple as that.
Downloads can be interrupted, resumed, prioritized, and optimized by adjusting ports and system settings. It is Ipv6 compatible and able to discover and connect to local peers.
This file-sharing software also offers remote control and portable mode functionality.
Configure Speeds and Scheduler
uTorrent is a neat application that's very simple to use. It also has some more advanced functions that are neat and not too complicated.
You can set up the maximum allowed download speeds if you want to save some download speeds for other tasks. But you can set it to unlimited when the tool uses the maximum download speeds your connection allows.
You can set priority items to download certain files faster than others. You can pause or cancel downloads, too.
A search bar and an additional RSS feed take users through well-ordered torrents. While searching, you can also preview video files or see ratings and comments.
Conclusion
uTorrent is an advanced torrent client that helps you download torrent files at great speeds.
uTorrent features and benefits:
very small size
total control and advanced features
high speed

low PC resources consumption