uTorrent 3.5.5 Build 45231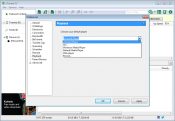 uTorrent is the tiniest file sharing software. However, it is fitted with powerful, yet light features that enable users to download torrent files in a smart and fast way thanks to the newly integrated uT protocol, a network congestion detector that manages traffic jams, thus optimizing the download process. A search bar and an additional RSS feed take users through well ordered torrents. While searching, you can also preview video files or see ratings and comments.
Downloads can be interrupted, resumed, prioritized, and optimized by adjusting ports and system settings. Ipv6 compatible as well as able to discover and connect to local peers, this file sharing software also offers remote control and portable mode functionality.
uTorrent features and benefits:
very small size
total control and advanced features
high speed

low PC resources consumption