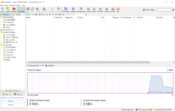 BitComet is a complete download manager that handles BitTorrent/ HTTP/ FTP protocols quickly, dynamically, and easily. As such, it offers high download speeds, but what it does have over other similar applications is its secure use.
Because it uses HTTP and FTP technologies, the sharing and the downloads are much safer but very quick simultaneously. It makes it one of the most popular BitTorrent apps out there.
If you're using the BitTorrent sharing protocol often, you need an interface to help you download items and share them with your friends and others.
BitComet provides high downloading speeds and makes the sharing protocol safer by using the HTTP and FTP technology reasonably impacting your system.
Easy to Use with Smart Settings
In short, BitComet is nothing revolutionary when it comes to the design and the interface. It's similar to other similar applications of this range in many ways, although it does have some differences from other tools like this one.
One is the ability to automatically shut down the computer once a download is completed, which is great if you try downloading large files.
Other important features of this app include multi-mirror and multi-section downloading, quick resume, bandwidth scheduler, and a dedicated tool for automatically shutting down the computer.
It makes it one of the more feature-packed apps in this sphere, while it also has other capabilities such as Intelligent Disk Cache and Intelligent Connection Optimization.
Prioritize Segments of Your Downloads
Perhaps the most popular feature of this app is the ability to prioritize segments of your downloads. You can set which segments get downloaded first so you can view them quicker, allowing you quick access to your downloads before they are complete.
Sharing torrents and downloading them with this utility is safe. You can share your torrent files within the P2P network called the Torrent Exchange. You can also pay for the VIP subscription and download files anonymously.
There are, of course, also more complex settings when setting up your proxy settings, download tasks, long-term seeding, and integration with IE and Firefox.
Impressive Performance
Although we must mention that the app has a very impressive performance, it does consume slightly more resources than some other similar apps. The downloads are fast, as is the app's very important usage.
At the same time, everything is very safe, and your downloads are always protected.
Conclusion
BitComet is an app that allows you to search, download, and share torrents with others using HTTP and FTP technologies. It will enable you to download torrents faster and safer.