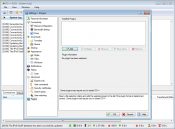 DC++ is a Direct Connect file-sharing client working on individual servers or hubs to provide sharing facilities to all the members of one or more hubs. Each server is individually managed and runs on users' previously agreed-upon rules.
This file-sharing platform is subjected to continuous improvements based on open-source coding instead of ads, spyware, and useless software.
In addition, multi-protocol support and the possibility to join multiple hubs simultaneously complement a file integrity system and the magnet link availability.
DC++ facilitates both file sharing and networking, two of the most common types of tasks that users prefer to do on their computers nowadays.
Thanks to the Direct Connect network enables users to make file sharing easier, which allows for fast and painless connections and the ability to chat with other users.
Setup and Configuration
Before you start using the application, you'll need to set it up and configure it properly. It includes the installation, which should be simple enough for beginners to complete.
You'll need a username to connect, and then you'll also need to pick the type of internet connection you prefer before you get going.
After that, you'll also need to configure a few things before you can start using all of the features inside.
For instance, you'll want to configure the folder for file saving and sharing, as well as some other configurations you'll need to complete before you can make sure you use all of the features inside.
Easy to Use with Advanced Tools
While it is true that DC++ is quite simple to use, it still incorporates all of the advanced features you'll hope to find if you're a more advanced user.
It has a clean and simple interface, meaning it won't take long to get used to it. There's a settings window where further configurations can also be made.
You'll be pleased to know that the download speeds will be maintained at a high level, even though the application does not take up many of your computer's resources.
There weren't any errors or issues after using the application, making it a great app.
Conclusion
To conclude, DC++ is an excellent solution for sharing files and chatting with other users with ease, bringing you comfort and advanced tools simultaneously.