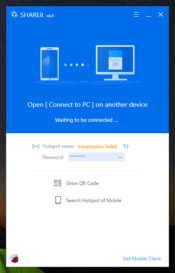 SHAREit allows you to send and receive files to your computer and send them to other computers or mobile devices thanks to the simple application and intuitive interface.
If you're looking for a reliable and simple tool for transferring files from device to device – mainly your computer and mobile, then SHAREit represents an excellent option. It's a relatively simple and lightweight tool that allows you to transfer files from a computer to another device or from your mobile device to other devices.
Lightweight and Beginner-Friendly
When you first download and use this tool, you'll have to create an identity for your device. You can assign a name to the device and even an avatar so that you can recognize it easily the next time you use it. It is a necessary step that will make it easier for you.
Then, you can select the type of service you need from this utility.
You can choose the send or receive functions based on what you need to do with the files. Of course, you can also invite your friends to use the software, making it even easier for you to send files to them and receive them.
Send and Receive Files Easily
Of course, this tool's main feature will be sending and receiving files from other devices. You first need to load the files you want to send to other devices, which is done quickly. You can upload several files simultaneously and multiple types of files, including documents, images, audio, and even videos.
Once you've done that, you will need to select the file receiver. It could be another mobile device, or it could be another computer.
The person receiving the file should open up SHAREit for PC and prepare to get the files sent to them. Once that's done, you can send files out quickly and easily.
Conclusion
SHAREit is a simple and intuitive tool that helps you send and receive files from other users quickly and painlessly.