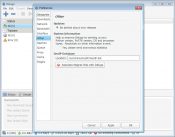 Deluge was created as a collection of plug-ins based on a torrent client core. While providing DC++ functionality, it also handles torrents quite well, featuring protocol encryption and local peer discovery. Certain to install no adware whatsoever, this torrent client acts light on memory resources.
Additionally, it works as a daemon fitted with a remote control option. Downloads are optimized by using fast protocol exchanges, peer exchanges, proxy addresses, and bandwidth scheduler.
Users can set the speed limit for all downloads at once or per-torrent. The RSS feed keeps you up-to-date with new releases, everything being packed-up into a password-protected environment.