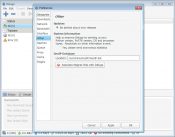 Deluge was created as a collection of plug-ins based on a torrent client core. Safe to install, with no adware whatsoever, this torrent client acts light on memory resources. While providing DC++ functionality, it handles torrents quite well, featuring protocol encryption and local peer discovery.
Torrents have become one of the most popular ways of sharing files with other users. They're easy to download and usually fast, thanks to quick connections, but you'll want to choose the right BitTorrent client for maximum performance. Luckily, there are many great options to choose from out there.
One of the better ones is Deluge, a popular BitTorrent client that allows you to download files and organize downloads easily.
You can add torrents to the queue and organize the queue, configure the bandwidth, find information about torrents, and perform other tasks.
Find and Download Torrents
The main purpose of Deluge is to provide you with a quick and easy way of downloading torrents created by other users.
You'll need to find torrents you want to download and add them to the queue. Once the torrent is in the queue, you can rearrange it according to your purposes and needs.
You can also view the details about each torrent, such as the file size, the number of files inside the torrent, comments, tracker, and other features.
You'll also see information regarding peers and other relevant data pieces or information you might want to know about.
Additional Preferences
There will also be additional preferences inside the application, giving you more control over how you download torrents.
For instance, you'll be able to set up bandwidth speeds, configure what the download folder will be, and other settings that help you define the entire process.
You'll have complete control over how the application works and where torrents are downloaded.
Conclusion
If you're looking for a good, user-friendly torrent client, then Deluge might be a good option for you. It enables you to find torrents and arrange them with full freedom, giving you support for various features as well.