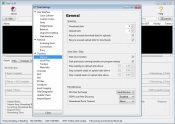 You can process and view .torrent and .magnet files with Tixati, an intuitive BitTorrent client that lets you download these files quickly using your maximum download speed.
Peer to Peer transfer is one of the main ways we download and receive files and share them with others.
Torrent files are one of the most popular files you can use with these transfers because they can quickly download and utilize your internet connection's full power.
Download Magnet and Torrent Files
This tool's main feature is processing and downloading torrent and magnet files. When you first install it on your computer, you'll see that it has a somewhat different interface than some other torrent clients – it looks a bit simpler but also somewhat outdated, although the performance and ease of use are on a high level.
Tixati allows you to download torrent and magnet files and see the download speeds at the same time.
Moreover, you can also track other statistics and data about your transfers, such as upload ratio, download time, and download source.
Compared to other BitTorrent clients, it has more advanced tools in its arsenal.
Customize Download Settings
You'll have full control over how you download files. You can configure bandwidth throttling, which will instruct the tool on how much bandwidth it's allowed to use. You can use trading and seeding limiters and set transfer priorities to allow for greater speeds for priority items.
It also allows you to set the number of available download slots and upload slots.
You can configure other more advanced settings, such as upload ratio limits, configuring download locations, and much more.
You'll have a lot of settings that you can use with Tixati and configure your downloads.
Conclusion
Tixati is an advanced and intuitive BitTorrent client that lets you download torrent and magnet files and use some configurations.