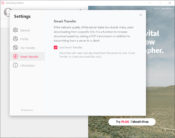 It is a peer-to-peer service that allows you to transfer your files, videos, pictures or share folders from one device to another, over the Internet, in an anonymous way. Send Anywhere works without involving cloud technology for the transfer. Instead, it uses P2P technology, which makes your data secure more secure as compared to the other methods of file transfers.
You do not need any login or registration for accomplishing the task. You need a six-digit code for the first time. Once your device becomes the paired device, it will automatically be able to send and receive data and files without manual setup requirement.
Send Anywhere does not have any geographical limit for transferring the files. You can send it to the users having this application in the smartphone everywhere in the world. Moreover, the types of the format supported by this application are not limited to a specific number, making it possible for you to share any file you like.
The speed for file transfer is excellent along with the provision of high security during and after the process of file transfer.
Send Anywhere is an application to ease the process of file transfer between users through peer-to-peer technology.