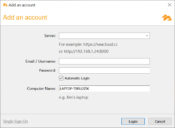 Seafile is an application that features the ability to synchronize files between smartphones and personal computers while the files are stored on a centralized server. It allows the management of files through its client app. You can perform different operations with your files like add, view, update, and delete. This software offers services similar to Google Drive and Dropbox.
The file hosting service can be trusted as its syncing algorithm is quite reliable. It prevents data loss and works without downtime. The client application stores file histories and snapshots of files that help to recover any file lost in the folder quickly. Currently, this service is being used by more than 300,000 users, and since it is open-source, it is supported by developers who provide constant updates to improve it. Project management teams, organizations, and companies also use Seafile to improve their performance.
The files on your account can be organized into libraries, and these can be synchronized across different devices. So all your devices can access the files through the internet, and this increases productivity and supports easy file access. The files can be encrypted through a password before syncing them to the server. It could restrict even the admin from accessing your data.
The hosting file server can provide you a means to collaborate. It has options to offer permissions control, activity notification, and versioning, which makes collaboration easy.
Seafile client can be updated within a few seconds by executing a simple script. The features such as group syncing, AD/LDAP integration, and fine-grained personal permission control makes this service compatible with the enterprise environment. With the needing to download or syncing the hard drive on your computer, you can access files on the server. If you are looking for a file host that doesn't delete your files after a certain number of days or wants you to pay for a subscription, ths tool is made for you.