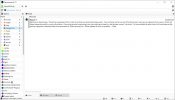 Demonsaw lets you share any file of your choice and however many files you want to whomever you want, while also keeping your privacy intact.
Sharing files online has become a dangerous thing to do. Cloud-based solutions have become the go-to option for people who want to share files online quickly and without using space. However, there is always a question of security and safety when it comes to some cloud-based tools. You're always at the mercy of someone else or hackers trying to bring down the cloud-based service.
Luckily, there is a good solution for sharing sensitive files with other people. It's called Demonsaw. It's a user-friendly app that will let you share your files with anyone you want from anywhere in the world, while also staying anonymous and safe as you do so.
Set Up Your Network
Once you start to use this app, you'll first need to install it on your PC. It is a very simple process, and it will only take a few minutes. You won't need to do major configurations, such as configuring public servers, which is already done for you. You can start using the app immediately.
One thing that almost every user will do now is creating their group and add people into the group. Inside this group or network, you can change the name, the router settings, the host, and the download location. Furthermore, you can also access your network settings as well as security options. To connect to your network, just set the data status to "Enabled".
Connect with People with Similar Interests
Everything you do in this app is done with the help of groups. These are closed groups, but these groups often have similar interests. The security will be on a very high level, and you won't even have to set up your password since the group protects it.
Furthermore, you'll be able to connect with other people who share similar interests as you and access their files. You can also chat with other users, which his helpful when you want to set up some parameters and settings.
Conclusion
Demonsaw is a safe app where you can share files with others and stay anonymous at the same time.