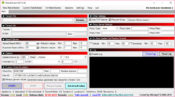 When you want to boost your torrent account data, you can use this application called RatioMaster.NET, which can be useful for improving your upload to download ratio.
When you want to download torrents from different sites, you might find that some sites require you to sign up and use your account.
You'll also need to keep a good ratio between uploaded files and downloaded files, or else you're facing potential consequences such as lower download speeds or even losing your account.
To counter those issues, you can use the application called RatioMaster.NET. With it, you will be able to fake downloads and uploads so that you improve your ratio.
It's a portable app, so you can use it anywhere you want, and it will come useful to anyone wanting to do the same task without having to upload their files.
Portable
The application is portable. You can take it anywhere with you and use it as you wish, and you can also run it from your USB drive. Simultaneously, the app will not affect your Windows registries and is very lightweight in that respect.
It is simple to use and will come useful to those that use torrent files regularly.
Supports Different Torrent Clients
One of the best things about this application is that it offers widespread support for various downloading torrent clients.
These include uTorrent, which is the most popular one, but it also supports others such as BitComet, Vuze BitTorrent, BitLord, BTuga, BitTornado, and BitSpirit. It should cover most of the popular torrent clients.
The app has a simple environment where you can improve the ratio instantly. It would be best if you had the file's tracker, and then you can start faking uploads based on one of the clients you might be using to download your torrent files.
It's intended for mild manipulation and not large-scale changes.
Conclusion
RatioMaster.NET is a well-known service that helps you improve your upload to download ratio by faking uploads, which will help you download more content.